My Best Work Yet
Wednesday, August 29, 2007
At heart, I'm a filmmaker.

posted by Daniel Wallace at 7:40 AM 3 comments


Kind words
Tuesday, August 28, 2007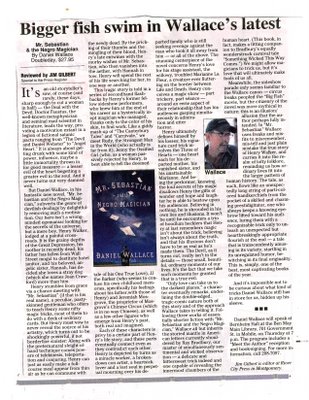 I've never posted a review in full here: I leave that to my fansites. But this one is different. It's not just a good review of my book, which it is, it's just a darn good review, period: well-written, thoughtful, engaging. I'd buy the book if I hadn't written it. To read it I imagine you'll have to click on the image. Click away.
posted by Daniel Wallace at 8:15 PM 1 comments


Scottsdale, AZ
Monday, August 27, 2007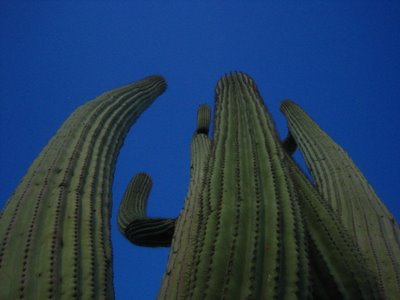 Write a book, see the world. I've never been to Scottsdale before. I've never been to Phoenix. I have never even been to Arizona. My review? Very hot, full of nice people, some of whom are on their third and fourth lives. And giant cacti. Lots of giant cacti.
posted by Daniel Wallace at 12:20 PM 0 comments


Things not as dead as they look
Friday, August 24, 2007
This is the cemetery behind the library where I read last night in Mobile. Things weren't dead inside at all. Five hundred people -- wait, no, I mean about seventy-five people came and listened to me drone on and on. I signed at least a thousand -- well, fifty books or so. Then a few of us went out to dinner. I had the grouper.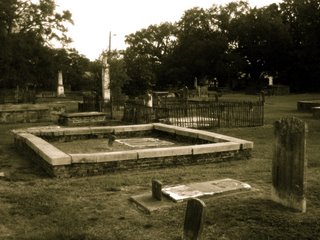 I also had some fun yesterday morning. Last week I wrote a short piece about Tim Burton's upcoming film, Sweeney Todd, for Italian Vanity Fair. I write it in English, but they print it in Italian (how that happens I'll never know). So I'm at the airport, about to catch my flight to Mobile, and my editor in Italy calls me and wonders if I can draw a couple of pictures for the article, the catch being he needs them in eight hours. I say no, I wish I could but I can't. I'm not at my desk etc etc I don't have paints or my fancy pens . . .

But then I think, I'll give it a try. So this is what I do: I get a piece of white, unlined paper from one of the check-in booths, get a pencil from a bookstore, and from Raleigh to Memphis (where I'm making a connection) I practice: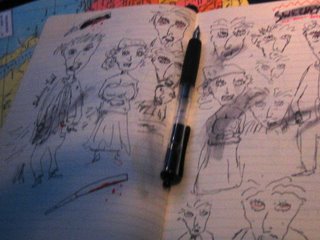 Then, in Memphis (I have an hour layover) I draw two pictures. I call ahead to Nancy, the wonderful woman who is picking me up in Mobile, and ask her to schedule in a stop at a Kinko's, so I can scan the drawings. And she does . . . I do. Scan them. Then I send them to my computer, because I need to do a little work on them there . . .

Long story short: it all works out. I send the pictures to Italy in time for the article, which will be on the stands next week!

Yes, I've breakfasted with presidents, brunched with queens, and had a light supper with the gray-haired emperor of the Invisible Universe. But this sort of thing is still a lot of fun.

Even if the picture I end up drawing is not that much of anything at all.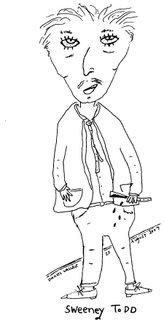 posted by Daniel Wallace at 10:22 AM 1 comments


Hello Mobile! And Howdy, Scottsdale, AZ!
Tuesday, August 21, 2007

That's right. After a couple of weeks reacquainting myself with my wife and son, on Thursday of this week I will be in Mobile, Alabama, at the public library, reading from and talking about MSATNM and anything else you want to talk about.

Then, on Saturday, I'll be in Scottsdale, Arizona, doing much the same thing. It's so hot in Scottsdale birds are using potholders to get worms from the ground. That's how hot it is in Scottsdale.

As usual, the first few people who come out because they saw this advert get a free poster.

(p.s. That's not an accurate representation of Henry, my son. This is an old drawing. He's almost as tall as I am now. And that's really not an accurate representation of Laura, either. She's much more colorful. But that's me, exactly. I haven't changed; I never do.)
posted by Daniel Wallace at 10:28 AM 0 comments


A New Story (from the South)
Friday, August 17, 2007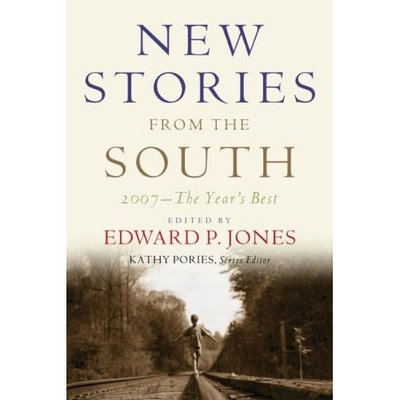 The 2007 edition of New Stories From the South has just recently been published, edited by Edward Jones and the incomparable Kathy Pories. I have a story in it. I probably wouldn't be mentioning the book if I didn't have a story in it, this blogging commentary being the only place I can talk about myself and all the awesomely wonderful things I do without feeling as though I'm drawing attention to myself, because if you're reading this now the attention has already been drawn. The story is called "A Terrible Thing." Here is how it starts. If you want to read the rest, you know where to go.

Before I met the woman who would become my wife, I went out with women who were in some way disfigured, girls to whom terrible things had happened, things which were apparent to anyone who looked at them. Not all of them were like that, but a lot of them were – many – maybe even most. One of the women I went out with was missing a hand. Another had been badly burned in a fire. Celia had a birthmark planted on one whole side of her face like an immense, permanent red welt.
There were others like that. I was drawn to these women in a way I could never put words to then. I guess I was some kind of freak myself, though I didn't think so at the time and I don't think the girls (none of whom knew about the others) thought that either. You might assume because these days it's natural to assume that it was a sexual thing, that somehow I got off on the scars and missing pieces. But (though we did have sex sometimes, the same as anyone) this wasn't true. Or I took pity on these women who if it weren't for me might never have been with another man in their entire lives. But I don't think it was this either. I think it was simply their observable difference that was intriguing to me – and the degree to which they were able to live a happy and normal life with it. Not that all of us don't harbor some sort of distinction, that thing that makes us us rather than somebody else, but with these women it was obvious, and clear, exactly what it was.
posted by Daniel Wallace at 5:37 PM 2 comments


Influences, Part 1
Tuesday, August 14, 2007
Dogs.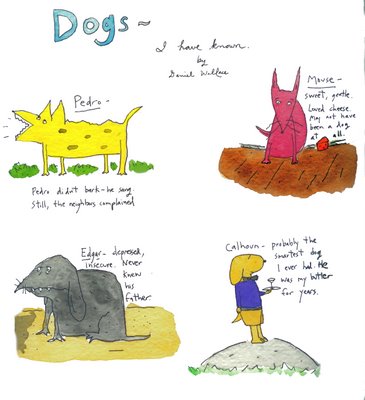 posted by Daniel Wallace at 3:44 PM 1 comments


Mr. Sebastian and the . . . Magician
Friday, August 10, 2007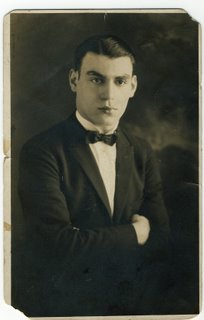 As you might imagine, there was not a little discussion about the title of this book. Discussion with the wife, the agent, the editor, and friends. Not the best way to title it, necessarily, but the culturally appropriate way to title it. There were a few people who believed that the word 'negro' was offensive. I didn't believe it was. I argued that, since the book takes place in early to mid-twentieth century, 'negro,' while clearly anachronistic, was appropriate for the time. So MSATNM it was.

That being said, I did expect someone to say something about it. I thought I'd get a few angry posts here, maybe a paragraph about it in the course of a review, a question about it at a reading . . . but there was nothing. At all. Apparently no one has really cared one way or the other. I'm surprised -- happily surprised, because the idea wasn't to offend, but to create interest, and maybe that's what it's done.

There are a number of ways the title is perfect for this book, and some of them aren't clear until you read it. So read it.

posted by Daniel Wallace at 3:53 PM 4 comments


A note of possible interest
Wednesday, August 8, 2007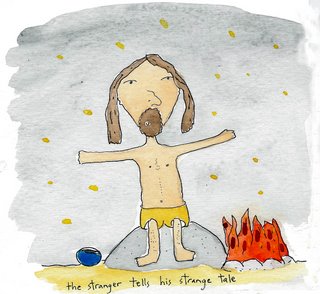 Not to draw your attention away from MSATNM, but I want to alert new viewers of this page to another book I've written, O Great Rosenfeld!

Please click away and take a look! It's worth your while. This little book has yet to be published in America, but the next time you're in France you can pick it up. They love it in France. And it's coming out in Korea later this year too. But not America. Yet. Sad.


It's written and illustrated by me, and it even has a soundtrack, written and performed by the amazing Falcon.

Look. Listen. You'll love it.
posted by Daniel Wallace at 12:19 PM 3 comments


The End
Sunday, August 5, 2007
Friday's reading at Malaprop's in Asheville, North Carolina marks the official end of my book tour for MSATNM. I enjoyed it. There were a few early flights -- I had to rise around 4:30 in the morning on more than one occasion -- but, amid all the delays and cancellations I've been reading about it, I had not a single one. Everywhere I needed to go I got to, on time, without problem. So a shout out to all the wonderful airlines I flew on: thanks! I guess you knew how important it was I got to Lexington, and Nashville, and Jackson . . .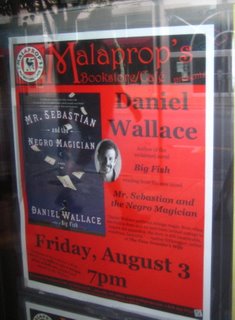 Of the four tours I've done, this was the best. Big Fish comes in a close second, Ray in Reverse third, and The Watermelon King a distant fourth. Why? I like to think it was because MSATNM is better than the other three (which it is) but I don't believe this is really true. After a book is on the shelves for a while and people have a chance to read it and tell other people to read it, it creates a life of its own and becomes known and read and all that, and then eventually drifts away into obscurity. In the beginning then, how does a book get to be known?

Marketing. Publicity. TV and radio time. Newspaper interviews. And this has less to do with the book in question (if you're me, anyway) than it does with the publicity and marketing machine behind the book, people who believe in it and will do everything they can to make others believe in it as well. The Watermelon King is a good book and deserved more readers than it got, but (for various reasons) the machine behind it malfunctioned. Word did not get out, and it drifted away into obscurity (skipping the two middle steps). Doubleday didn't let that happen with MSATNM. They loved the book, which might appear to be self-evident, since they bought it, but love doesn't always translate into action and this time it did. I was on television seven times, on the radio four, had four recorded interviews and a few newspaper pieces, a bunch of reviews and a lunch at the Book Expo which I think was at least partially responsible for a number of big reviews. I had over a hundred people at two events, and fifty plus at a few more. The only disappointment was Lexington, where one person came. And that wasn't a real disappointment because that one person was very nice. And it's not over. They're still working to get more -- more of everything. I'm just not going to have to travel so much from now on.

I have a couple of dates later in August (Scottsdale AZ and Mobile AL) and then one or two in September, and then three in October. There may be more, but none have been scheduled yet. As far as what's this done for sales, I know it helped, but I really have no idea how the book is doing in this regard. If you go to Amazon it doesn't look that great, but I hope there are people out there buying their books at actual stores, especially independents.

The book has been out about a month. It's just a baby. Almost everything surrounding this experience has been positive, so I count myself very lucky. This is certainly not the end of this commentary, because there's a lot more to tell. But now, at least, I'm at home, working on the next book.
posted by Daniel Wallace at 1:38 PM 3 comments


Asheville
Thursday, August 2, 2007
Tomorrow night at 7 I will be speaking/reading at Malaprop's in Asheville. Please come see me. And how about this: the first person who tells me they came after seeing this advert gets a free poster! Wow. I wish I could be that person.
posted by Daniel Wallace at 10:26 AM 0 comments


Review Round Up
Wednesday, August 1, 2007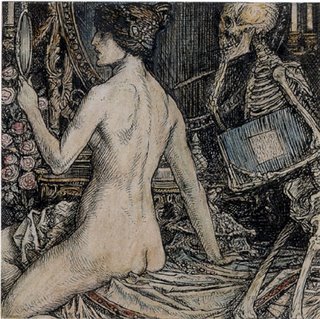 MSATNM has been blessed with some mighty nice reviews so far. In fact, I can only think of one not-so-nice one which I would include here as well but . . . darn . . . where did I put that link? Oh well.

I haven't been counting, but I think in the (almost a) month since publication there have been about a dozen reviews, maybe more. Reviews aren't supposed to matter to me, but they do. I like to be read and to hear what people think about what I've written, and when they like it, and seem to get it, then I'm happy; when they don't like it, and yet appear to have gotten it, I'm not as happy. I know some writers say they don't read their own reviews . . . and I really wonder if this is true. If there are any writers out there who don't read their own reviews, I'd love to hear from them. I'm not one of them, that's for sure.

So, that being said, here are some of the reviews I read, and you can read them too if you are so inclined. I had started to link them individually, until I found a site that had them all there already. L.A. Times, USA Today, Oregon, Nashville, etc -- they are all here. Take a look!

All in all I'm happy with the way it's been received, by reviewers and by readers I meet on the road. I'm happy. Period.
posted by Daniel Wallace at 4:06 PM 2 comments
Previous Posts
Archives